The Academy at Tashua Knolls, in Trumbull, CT, is Connecticut's premier golf instruction solution!
The Academy, under the guidance of Director of Instruction, Dave Bove, offers golf instruction to players of all ability levels, from absolute beginner to Tour Player, and everything in-between! 2017 Academy Memberships will be available for purchase, beginning March 10, 2017. To learn more about the benefits of becoming an Academy Member, as well as pricing, please check out the "Memberships" page.
Bove named 2017 Connecticut PGA Teacher of the Year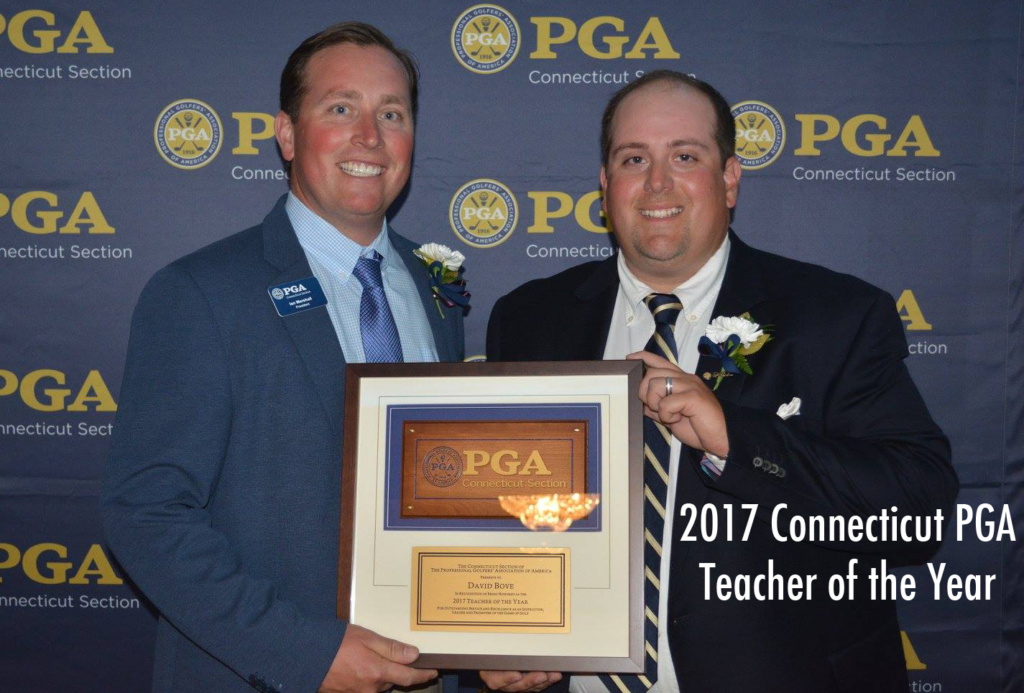 On Saturday, June 11th, at the 2017 Connecticut PGA Special Awards Dinner, Dave Bove was honored as the youngest PGA Member to win the prestigious Connecticut PGA Teacher of the Year award.
Tashua Knolls Golf Course Honored by the Connecticut Section PGA
Story by: Bruce Berlet
It has been quite a 2017 for Tashua Knolls Golf Course in Trumbull, and it isn't even half over.
First, head pro David Bove was named the Connecticut Section PGA Teacher of the Year, his first award from the Section that includes most of the state and Western Massachusetts.
Then Tashua Knolls was selected to receive the 2017 Walter Lowell Public Golf Course Distinguished Service Award by the Section's Board of Directors and Special Awards Committee. Tashua Knolls director of golf Bobby Brown and Trumbull Golf Commission members Julie Jenkins, Bob Oleyar and Phil Pitocco will accept the award on behalf of the club at the Walter Lowell PGA Tournament at The Farms Country Club in Wallingford on Tuesday.
Next month, the club will host the CIAC Girls Golf Championship for the second consecutive year on June 6 and then become the first public course to host the Connecticut State Golf Association Amateur Championship in the organization's 115-year history on June 19-23.
"It is a true honor to be receiving the Walter Lowell Public Golf Distinguished Service Award," said Brown, the Tashua Knolls director of golf who is in his 13th season at the club. "Every day we strive to make the golfer's experience exceptional at Tashua. Our 27-hole facility offers an 18-hole championship course and a nine-hole, par-3 course (Tashua Glen). The latter offers all types of golfers an opportunity to learn the game, play in shorter time and at an affordable price. Tashua Glen is considered our family golf course."
"Our belief at Tashua is to offer an exceptional product, promote and grow the game of golf through extensive programs and cultivate and develop junior and women golfers," added Brown, an All-American at Bryant College who has been a PGA of America member since 1995, is a two-time South Florida PGA Golf Leader of the Year and received the Connecticut Section PGA Horton Smith Award for education in 2012 and was named Public Merchandiser of the Year in 2016.
The Walter Lowell PGA Tournament began in 2001 to honor the top public golf course in the Section with namesake Walter Lowell, a member of the PGA of America Hall of Fame and the organization's Golf Professional of the Year in 1978 who has held virtually every major Section office and is currently Honorary Life President.
Lowell and his family operated Canton Public Golf Course for more than 80 years with a dedicated spirit to make golf fun and available to everyone. The award was inaugurated in honor of Canton G.C. for the standards it set towards a public course's responsibility to its community to provide playing opportunities for all those who want to play and learn the game. At the tournament, the field of Section members will be divided and paired into four divisions based on years of PGA membership. The divisions are named for four of golf's major championship sites: Quail Hollow, Royal Birkdale, Erin Hills and Augusta National.
Tashua Knolls was recognized by the Section for the course's unwavering efforts to make golf fun and accessible to all, the advancement of the understanding and application of the Rules of Golf, the enforcement of proper etiquette among its patrons and the promotion of the traditions and values of the game and the junior golf program.
"The Walter Lowell Public Golf Course Distinguished Service Award is a tremendous accolade and validates the structure of our operation at Tashua Knolls," said Bove, a Trumbull native who is in ninth year as the club's head teaching pro. "We have a core team of forward-thinking golf professionals that each specialize in different aspects of the operation (instruction, equipment, junior golf, etc.), and it has proven to serve us well. This award will act as further motivation to continue pushing the envelope and thinking outside the box as leaders in public golf operations."
Bove has packed plenty into the first 30 years of his life. He was introduced to golf at age 8 at Tashua Knolls of all places, played on the Trumbull High School golf team for four years and graduated in 2004. After high school, he pursued a degree in PGA Golf Management from Campbell University in Buies Creek, N.C., graduating in 2009. He was the keynote speaker at the 2012 Connecticut Section PGA Fall Education Seminar and the 2013 Northeast Instructors Conference at Lyman Orchards Golf Club in Middlefield.
Bove is an Authorized Instructor of The Golfing Machine, the only one in Connecticut, and a Certified Golf Fitness instructor with the Titleist Performance Institute. He uses a variety of modern technologies such as FlightScope X2 Launch Monitor, SAM PuttLab Professional GC2 with HMT and Swing Catalyst Balance Plate 2.
"I am extremely humbled and honored to have been selected as the 2017 Connecticut Section PGA Teacher of the Year," Bove said. "Golf instruction is my passion, and I enjoy helping golfers to improve, from absolute beginners to Tour players and everything in-between. There is a tremendous amount of satisfaction that comes along with making a career out of something that you love. I can honestly say that I enjoy going to work every day."
Founded in 1976, the first 18 of Tashua Knolls' 27 holes were designed by Al Zikorus, plays to a par of 72 and has four sets of tees that measure 6,540 yards from the tips. True to Zikorus' style of architecture, the course features winding and undulating fairways that lead to a difficult set of contoured greens that are challenging to any level of player.
The layout is located on picturesque farmland originally inhabited by the Tamtashua Indians and later the Mallet family of Trumbull and includes mature trees, original stone walls, a 200-year-old church and cemetery and just enough water to make things interesting. Deer, turkey and other wildlife are frequent visitors, but a specially trained Border Collie helps keep the geese moving along. Depending on your skill level, there are as many as seven holes where water may influence strategy and club selection.
An additional nine holes, the par-33 Tashua Glen, was designed and supervised by Al Zikorus' son Michael, and completed in 2004. The terrain for that layout presented unique challenges, but the resulting design produced a family-friendly layout that also will challenge all players. The course has received many accolades, and it continues to grow in popularity after a major bunker renovation project at the end of 2013. The facility also features two putting greens, a chipping green, practice range, locker rooms for men and women, a full-service pro shop, a restaurant and banquet area.
The CSGA Amateur Championship will be the first state men's match-play championship played on an exclusively public course. The tournament was held at Shennecossett Golf Course in Groton in 1922, 1923 and 1926, but it was a private club at the time. The championship was at Lake of Isles Golf Course in North Stonington in 2014, but both the private and public courses were used.
Tashua Knolls also has hosted the 2001 CSGA Public Links Championship and 2011 CSGA Father & Son Championship, along with numerous CSGA and U.S. Golf Association qualifiers, including for the Connecticut Open, State Amateur, State Mid-Amateur and U.S. Junior Boys Championship. The club annually averages 43,000 rounds, 18,000 on the Glen course.
"Since opening in 1976, the Tashua Knolls Golf Course has been providing a challenging experience to golfers throughout Connecticut," said Peter Pulaski, Director of Golf Operations at Yale University and Connecticut Section PGA Special Awards Committee Chairman. "This year hosting the Connecticut State Amateur Championship is a tribute to the continued effort of the Town of Trumbull, PGA Professional Bob Brown and his entire staff in creating a spectacular public golf venue.
"In the spirit of the Walter Lowell Outstanding Public Golf Course Award, the Connecticut PGA Special Awards Committee proudly recognizes Tashua Knolls for the outstanding service and professionalism shown to over 40,000 golfers annually."
"Excellent lesson…just had my first lesson with Dave – I'm very impressed. Not only does he have an encyclopedic knowledge of the swing, but he also knows bio-mechanics. Meaning, he just doesn't throw out golf terms. He explains the principles of the swing. Then shows you how to recreate them with your body.

In one lesson he not only showed me how to correct my swing plane (among other things), but had me striking balls soundly. I've had the pleasure of working with PGA tour winner Brian Gays teacher. Also spent an afternoon range session with the 2006 Georgia PGA teacher of the year. I don't mean to embarrass Dave here, but his instruction is every bit as insightful, clear and accessible as anyone I've ever talked golf with.

Don't take my word for it.

Take a lesson – you'll not only feel, but see your swing change for the better.

Thanks Dave, looking forward to our next session."
Meet The Director of Instruction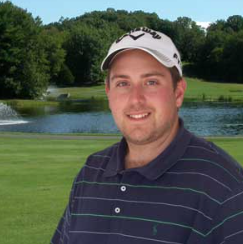 Dave Bove is the PGA Director of Instruction, and founder of "The Academy at Tashua Knolls". He works with players of all abilities, from beginner to Tour Player, and is often sought out for consultation by his peers. He is an Authorized Instructor of The Golfing Machine (G.S.E.B.), a Certified Golf Fitness Instructor with the Titleist Performance Institute, and a former member (2009-2015) of the prestigious Proponent Group (formerly AMF Golf Management).
Dave has been selected as a keynote speaker, several times, in order to share his wealth of knowledge and information with his peers.
Speaking Engagements/Presentations:
-2013 Northeast Instructors' Conference
(formerly the Northeast Teaching and Coaching Summit)

-2012 Connecticut Section PGA, Fall Education Seminar
Additionally, Dave has been chosen as a finalist for the Connecticut Section PGA's "Teacher of the Year" Award multiple times. He incorporates a variety of modern teaching technologies into his lessons, and has a deep understanding biomechanics and golf swing science.
In an effort to remain at the forefront of golf instruction, he continues ongoing research to ensure that he is providing his students with the best, and most accurate, information available to them.
Technology Used:
-FlightScope X2 Doppler Radar Launch Monitor
-MySwing Professional 3D Motion Capture (April 2016)
-Foresight GC2 with H.M.T.
-SAM PuttLab Pro
-Casio High-speed Video Cameras
-Video Analysis Software