The Academy at Tashua Knolls, in Trumbull, CT, is Connecticut's premier golf instruction solution!
The Academy, under the guidance of Director of Instruction, Dave Bove, offers golf instruction to players of all ability levels, from absolute beginner to Tour Player, and everything in-between! 2017 Academy Memberships will be available for purchase, beginning March 10, 2017. To learn more about the benefits of becoming an Academy Member, as well as pricing, please check out the "Memberships" page.
"Excellent lesson…just had my first lesson with Dave – I'm very impressed. Not only does he have an encyclopedic knowledge of the swing, but he also knows bio-mechanics. Meaning, he just doesn't throw out golf terms. He explains the principles of the swing. Then shows you how to recreate them with your body.

In one lesson he not only showed me how to correct my swing plane (among other things), but had me striking balls soundly. I've had the pleasure of working with PGA tour winner Brian Gays teacher. Also spent an afternoon range session with the 2006 Georgia PGA teacher of the year. I don't mean to embarrass Dave here, but his instruction is every bit as insightful, clear and accessible as anyone I've ever talked golf with.

Don't take my word for it.

Take a lesson – you'll not only feel, but see your swing change for the better.

Thanks Dave, looking forward to our next session."
Meet The Director of Instruction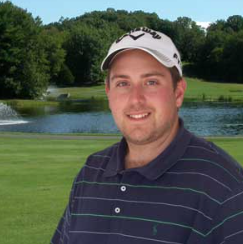 Dave Bove is the PGA Director of Instruction, and founder of "The Academy at Tashua Knolls". He works with players of all abilities, from beginner to Tour Player, and is often sought out for consultation by his peers. He is an Authorized Instructor of The Golfing Machine (G.S.E.B.), a Certified Golf Fitness Instructor with the Titleist Performance Institute, and a former member (2009-2015) of the prestigious Proponent Group (formerly AMF Golf Management).
Dave has been selected as a keynote speaker, several times, in order to share his wealth of knowledge and information with his peers.
Speaking Engagements/Presentations:
-2013 Northeast Instructors' Conference
(formerly the Northeast Teaching and Coaching Summit)

-2012 Connecticut Section PGA, Fall Education Seminar
Additionally, Dave has been chosen as a finalist for the Connecticut Section PGA's "Teacher of the Year" Award multiple times. He incorporates a variety of modern teaching technologies into his lessons, and has a deep understanding biomechanics and golf swing science.
In an effort to remain at the forefront of golf instruction, he continues ongoing research to ensure that he is providing his students with the best, and most accurate, information available to them.
Technology Used:
-FlightScope X2 Doppler Radar Launch Monitor
-MySwing Professional 3D Motion Capture (April 2016)
-Foresight GC2 with H.M.T.
-SAM PuttLab Pro
-Casio High-speed Video Cameras
-Video Analysis Software